Help People Achieve Their Goals

And Earn 50% Commission!
Would you like to let people know about the Smartest Goals Formula™ ebook and earn 50% commission at the same time?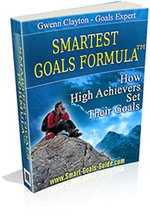 If so:
Here's all you have to do.
1. Sign up for a Paydotcom account by clicking here.

2. Create your own affilate link so that you can track your sales of the Smartest Goals Formula™

3. Simply copy and paste the html code for your affiliate link onto your own webpage or blog.
Please contact me if you need any help.


Below are some images you can use to add to your webpage or blog.