Smartest Goals Formula™ - Ebook

How High Achievers Set Their Goals
And You Can Too!
How To Supercharge Your Chances Of Achieving ANY Goal Right From The Start.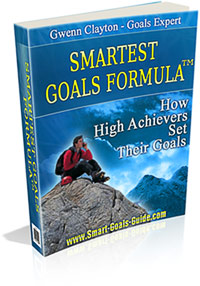 Stop wasting hours of your valuable TIME...
Stop wasting your hard earned MONEY...
Stop wasting your EFFORT and ENERGY...
In a word, if you have a goal in mind, stop making the same
mistakes
thousands of people are making every single day.
Mistakes that result in SIGNIFICANT COSTS and often, dare I say it, FAILURE.
Did you know that thousands of people fail to achieve goals because they don't know how to really think them through & set them properly?



Why High Achievers Have The Edge.
---
Have you an important personal or professional goal that you really, really want to achieve?
Are you about to spend days of your time, tons of your effort and tens, hundreds or perhaps thousands of your dollars achieving it?
If so, you absolutely must stop and think your goal through thoroughly before you start!
That's what high achievers who have been taught goal setting excellence do.
Why? Two reasons.
Firstly, because they know it's a foundational step that will vastly increase their chances of succeeding at their goal.
And, secondly, because they know, it's also an important step to help them avoid costly failure from the start.
You see knowing how to create effective and detailed goals is a science. And it's still the preserve of the minority rather than the masses.
You may have been lucky enough to have learned various goal setting techniques on expensive leadership programmes or at personal development trainings worldwide.
But true excellence in goal setting is a skill few have.
That's why I wrote this book.
It's the NUMBER ONE SKILL to all success and everyone should know how to do it - masterfully.



What's the Smartest Goals Formula™ then?
---
First here's what this book is not about:
It's not a book all about goal setting, there are plenty of good books around already.
Nor is it a book simply compiling and repeating the content of this website – the content on my website is all free.
It's not a book of stories about inspiring people and the steps they took to achieve their goals.
Nor is it another 'more of the same' book about 'how to be successful'.
So what is it?
The Smartest Goals Formula™ is a powerful eight step process that brings together all the highly researched and proven questions that lie behind goal setting excellence today.

(You will probably know some of the elements already, but this is a systematic technique to ensure you always remember to take the most important steps).

You'll learn how to take each step – in detail. And you'll understand it's importance.
You'll know how to work on your own goal, or goals, and see how the Smartest Goals Formula™ makes you get clearer and clearer in your thinking, with every step you take.
You'll also make sense of and put an order to your thinking. Often we have so many thoughts it's difficult to get really clear, fast.
You'll motivate and energise yourself.
You'll map out a clear pathway to your success.
You'll see obstacles you might have missed.
You'll get really focussed so that when it's time to take action you'll know what to do first.
You'll also be able to help your family and friends, work colleagues and community think more clearly about what it is they want to achieve too.

Oh, and so much more..............
And you know what's really fantastic?
You'll be saving your TIME
You'll be saving your MONEY

and

You'll be using your EFFORT and ENERGY much more effectively
And what does that all mean?
It means you'll be GREATLY increasing your chances of SUCCEEDING AT YOUR GOAL right from the start!
What are people saying about it?
---
"I have learned to apply the Smartest Goals Formula™ in my capacity as manager of the Gateway 'Incubation Centre' at University College Cork.
I find it very beneficial to organise my thoughts, and prioritise. Also to distill down objectives into actions that are manageable and form achievable targets.
I would highly recommend this process to think through any task that is important to you but may seem unattainable."
Myriam Cronin
Manager
Gateway Incubation Centre
University College Cork


"I would have told you I had clear goals, but as a result of the tools I saw they were not nearly as tight as they need to be if I want to quickly build my dreams".
E. Alana James
Professor - Colorado Technical University


"The discipline of working through the steps and key questions in the Smartest Goals process brings exceptional clarity and focus allowing me to achieve much more in a shorter time than I hertofore thought possible.
I would highly recommend this approach to anyone who wishes to achieve their dreams."
Helen O'Dowd
Founder
Virginia Health Foods


"I am delighted with My Smartest Goal!
I was at a bit of a crossroads in my business and I found the entire process most helpful, insightful, and inspirational!"
Fiona Foley- Gaffney
Consultant
Colour Me Beautiful



The Smartest Goals Formula is now the goal setting process taught inside Biz Results Academy.com



Return to Smart Goals Home From Smartest Goals Formula Ebook